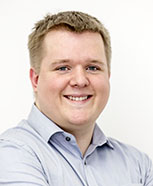 ERIK CEDERBERG
I have a passion for Technology, Knowledge and Scouting. Founder of Stockholm Makerspace
ERIK CEDERBERG

1989-05-17

Villavägen 59, 17833 EKERÖ

info@erikcederberg.se

+46 70 566 18 84

http://erikcederberg.se
Employment
Technical Consultant

2015 -

Cederb AB

My own business where i do custom hardware related stuff, often with a slight focus on computer controlled manufacturing or automation, but also installations for advertising and teaching at a HVE Program for 3D Printing technichans. One intresting project i did in cooperation with Monsén Arkitekter, where we made the first ornaments on a commercial building in Sweden made with help of 3D Printers.

Technical Specialist & Trainer

2016 -

3DVerkstan AB

3DVerkstan is a major distributor of desktop 3D Printers from Ultimaker and Formlabs in the Nordic and Baltic region. My job here includes serving customers with special technical needs, doing R&D work for our own product line of accessories and customer training.

AD / IT

2008 - 2014

Add Profile AB

Doing everything between running our IT environment to design and production of websites and all kinds of printed media, including T-Shirts and huge wall-printouts

Graphics and Photography

2010-2013

PEAK Group Nordic AB

A lot of product photography and catalogue work for the swedish distrubutor of PEAK, one of the worlds biggest brands in sport clothing and shoes.

Print and Web design

2010 - 2012

Supersale AB

Supersale is a clothing store chain that during my employment had between 3 and 5 stores, the largest one were about twelve hundred square meters in size, I created the new Supersale logo, designed about fifty newspaper advertisements and did all design and production work for wall signs, banners, and all in-store signage. I was also responsible for the IT environment with cash registers, label printing systems and computers.
Leadership Education
Diplomering i Kommunikativt Ledarskap

2014

Astrakan Strategisk Utbildning AB

Coachande ledarskap - leda sig själv och leda andra

2014

Astrakan Strategisk Utbildning AB

Kommunikativt Ledarskap genom Positiv Påverkan

2014

Astrakan Strategisk Utbildning AB

Värdebaserat Ledarskap

2014

Scouternas Folkhögskola

Value Based Leadership is an advanced leadership training program for young leaders 20-25 years old with a focus on leading from your values.

Allmän ledarutbildning ALU Veckolång

2009

Vässarö

The ALU is a one week course in leadership for the Swedish Scout Movement, in many scout troops in Sweden it is a almost a requirement to become a scout leader.

Social Styles with IDI-profile

2009

Ekerö Utbildning AB

Knowledge about human behavior and different ways of communicating, what our strengths and weaknesses are in working together with other people and how to get the most out of each team member. Conflict solving and reducing stress with different social styles. It includes a IDI analysis (Interpersonal Dynamic Inventory analysis) both from a personal perspective and a 360 view from at least 5 different people with a personal feedback.
School Education
Technical Preparatory Year

2012 - 2014

Royal Institute of Technology KTH

Studied the Technical Preparatory Year on KTH to get my speed up at math and physics.

Waldorf School

1996 - 2008

Kristofferskolan

Did study 12 years at Kristofferskolan, swedens oldest and biggest Waldorf/Steiner School
Scouting
14th World Scout Moot

2013

Canada

I went as a participant to the World Scout Moot in Canada to meet with more than 2000 people from 83 countries, also went to visit Manitoulin island and the natives.

Roverway 2012

2012

Finland

A great adventure with a few thousand other Rover scouts who gathered in finland under the theme "See, Feel, Follow" and were doing both stuff like hiking the finnish woods, but almost as much participating in discussions how to make the world a better place in many different ways!

22nd World Scout Jamboree

2011

Rinkaby

At the 22nd World Scout Jamboree i worked as a IST (International Service Team) Member in the People Section where my team of about a hundred people held activities for about 5000 scouts during a six hour time period every day during the camp week.

Sjöledarutbildning SjöLU

2010

Vindalsö

SjöLU is the Swedish Scout Movements training to become a leader for Sea Scouting activites, i completed this in 2010 since i am a leader for Sea Scouts.

13th World Scout Moot

2010

Kenya

I went as a participant to the first ever international scout moot to be held at the African continent to meet with rover scouts in the ages 18-26 from 66 different countries.

Roverway 2009

2009

Iceland

A great roverscouting adventure during the summer of 2009, we gathered over 2000 rover scouts on Island, wich is a lot in a country with only 200.000 inhabitants!

Allmän Ledarutbildning ALU

2009

Vässarö

The ALU is a one week course in leadership for the Swedish Scout Movement, in many scout troops in Sweden it is a almost a requirement to become a scout leader.

Vargarnas Äventyrskurs

2009

Stockholm

A course educating leaders how to lead young people in a adventurous style which in this context means to make educating more of a play where you learn through adventures and practicing more than learning from theory. In the course we were practicing and learning about areas like storywriting, special effects, planning, setting the correct mood, clothing, crafting and make-up.

Blå Hajk Jägarna

2007

Jämtland

A great adventure during ten days in the mountains in the northern part of Sweden which gave a lot of knowledge and practical experiences, and also got to know myself better.

Explorer Belt

2005

Hungary

Explorer belt is a journey and also a resulting award which promotes adventure and self-reliance in an international context during the three week long international trip mostly consisting of hiking and getting to know local culture and geography.
Graphics and media skills
Illustrator

Photoshop

Indesign
Practical Skills
CNC Systems

Electronics

Mechatronics

LED Lighting
Programming Skills
HTML

CSS

PHP

SQL

Wordpress
Contact info
Villavägen 59, 17833 EKERÖ


Email: info@erikcederberg.se
Phone: +46 70 566 18 84